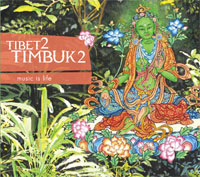 Rollicking Tibetan folk, afro-reggae guitar grooves and intricate Indian tabla sound as if they were made for each other! Together, Tenzin Choegyal, Marcello Milani and Shen Flindell create a new joyful sound that transcends cultural boundaries.
Tibet2Timbuk2 has an eclectic repertoire resulting in an overall sound which is full and organic. All three musicians share melody, harmony, bass and percussion roles to create a solid yet easy groove.
On their debut CD Music is Life, they are joined by guest artists Lansana Camara (vocals, kora) from Guinea, Peter Hunt (trumpet) and Japan's leading Indian classical bansuri player (Indian classical bamboo flute) Taro Terahara.
From the joyous to the meditative, come on a journey from Tibet to Timbuktu.
Full-length Streaming Tracks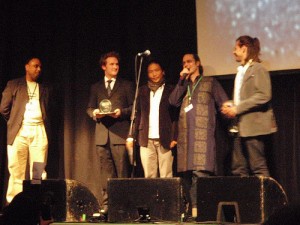 Tibet2Timbuk2 receiving the 2008 QSong BEMAC World Music Award for Crane Song
Proceeds from sales go to support the Tibetan Children's Village in Dharamsala, India.